The official NBA season doesn't tip off until October 16th, but it is never too early to begin speculation about one of the league's most intriguing awards – Rookie of the Year.
Last year's race between Ben Simmons and Donovan Mitchell was one of the tightest in recent memory. It featured a helluva lot of pettiness, including this troll job by Mitchell.
Mitchell's trolling wasn't enough to earn himself the trophy over Ben Simmons, but at least it provided us with plenty to talk and/or tweet about. If the 2018/2019 race can provide us with even half the entertainment as last year, we're in for a treat.
First, I'll rule out a list of the heavyweight contenders.
---
ROY Favorites:
DeAndre Ayton, PHX – tons of playing time on a bad team, could largely impact their win total while filling the stat sheet
Luka Doncic, DAL – arguably most NBA ready prospect, addition of DeAndre Jordan and a sophomore Dennis Smith could allow Dallas to make a playoff push
Wendell Carter Jr., CHI – Vegas Summer League All-Star, good fit with Lauri Markannen + healthy Zach LaVine and Jabari Parker could make Eastern playoffs
Jaren Jackson Jr., MEM – athletic shot blocker and defender, can stretch the floor next to Marc Gasol, potential to be best player in rookie class
Marvin Bagley III, SAC – I'm personally very skeptical, however will have a high-usage for a bad team, potential to be a 20 and 10 guy on a nightly basis
---
The Sleepers:
Kevin Knox, New York Knicks
After being selected 9th overall in the draft, Knicks fans promptly booed the Kentucky standout. If I remember correctly, they reacted similarly with Kristaps Porzingis too…
Kevin Knox showed loads of potential in the Vegas Summer League, recording 21.3 points per game, 35% FG%, 6.5 RPG, 2.3 APG, and 1.00 SPG. The 35% shooting percentage shouldn't scare you away. The extended 3-point line and change of pace from college to the NBA have historically affected rookie shooting percentages. Knox comes in the mold of former Dukie Jayson Tatum and has a fantastic build (6-9″, 213 lbs) to play the new-age small forward position in the NBA.
Don't be surprised if Knox is a frontrunner for Rookie of the Year by the All-Star break. The Knicks need plenty of help and Knox can bring it.
Shai Gilgeous-Alexander, Los Angeles Clippers
Shai "The Salamander" Gilgeous-Alexander was the best player for John Calipari's Kentucky squad last year. Also, I just made that nickname up. Let's make it stick.
In Vegas, SGA put up 19.0 PPG, 46% FG%, 4.8 RPG, 4.0 APG, 2.3 SPG, and 1.00 BPG. It would be foolish to think that just because SGA produced impressive numbers in Vegas he will be a fantastic pro. But it's the WAY he produced those numbers that makes me think he will be a fantastic pro. The change of pace he plays with and midrange expertise he displays reminds me of guys like CJ McCollum and Shaun Livingston.
The only roadblock on SGA's rookie campaign is actually three roadblocks – Patrick Beverley, Milos Teodosic, and Jawun Evans. The Clips have three point guards on their roster already. If the Salamander can slither his way to the top of the depth chart, he will make some serious noise during his rookie year.
Collin Sexton, Cleveland Cavaliers
You might consider Sexton a favorite, but for the sake of this article, anyone outside of the top seven is in "sleeper contention." The man referred to as "Young Bull" is a fearless competitor. Whether Sexton is pretending to be the Karate Kid or showing off his clutch-gene, he comes ready to get AFTER IT.
It's hard to imagine Sexton taking the starting job from the $20 million George Hill at the beginning of the season, but he may force Hill out of the starting lineup before the year is over. And who isn't rooting for that to happen? I think we all want to see Sexton's antics alongside J.R. Smith's new Supreme tattoo.
Regardless of whether or not Sexton starts this year, he is sure to make an immediate impact at the next level. After all, that is what this award is actually about.
Trae Young, Atlanta Hawks
However you want to look at it, the Atlanta Hawks took a HUGE gamble on Trae Young. Yes, they did secure the Dallas Mavericks top-5 protected pick in the 2019 draft. But they essentially bet on Trae Young being better than Luka Doncic. Hawks fan need to start praying that Luka doesn't turn into the bonafide star so many experts believe he will become.
Young's upside is undeniable. The NCAA's leading scorer and assist man a year ago (27.4 PPG & 8.7 APG) showed his Steph-like ability to change a game in just a couple of possessions. At any moment, Trae can catch fire and completely flip the scoreline in his team's favor.
The true X-factor to Young's game is his passing ability. In a July interview at the Summer League, Young told Yahoo Sports that he tries to model his game off of Steve Nash. I believe that if Young can begin his career with more emphasis on distributing than scoring, his overall game will expand at a much quicker rate. Hopefully playing with guys like Taurean Prince, John Collins, Omari Spellman, and Kevin Huerter will prevent similar pressure to what he dealt with while playing for the Oklahoma Sooners.
Lonnie Walker IV, San Antonio Spurs
Miami one-and-done Lonnie Walker IV has all the physical tools to be an elite player at the next level. He's one of the most athletic players in this incoming class. Know who that was last year? Donovan Mitchell.
Walker's game remains fairly raw. But that doesn't mean he couldn't become an eventual All-Star. Many feel teams could've taken a chance on him earlier in the draft, but of course, he fell into the lap of Gregg Popovich.
The flashes Walker displayed in Vegas should excite Spurs fans. It seems like everywhere I look, I keep hearing Lonnie Walker is the replacement for Kawhi Leonard. That is honestly bold af for people to say, but I kind of agree. His 3-point stroke looks pretty pure already and he can probably cover the 1-3 on most NBA teams already.
Walker will get better and better as he gains confidence in his game. If this diss on Trae Young tells you anything, he definitely doesn't lack confidence off the court.
Moritz Wagner, Los Angeles Lakers
My final ROY sleeper is the big man out of Michigan. Who's to say Javale McGee won't be his back up on the meme team by the end of the season?
Wagner can do a little bit of everything: shoot, shoot from 3, defend, block shots, pass, screen, you name it. Lakers fans might not have been too excited when the pick was made, but there is no doubt in my mind he will eventually become a fan favorite. He's too competitive for fans to dislike him.
I really think Wagner could be a great fit next to LeBron James. If LBJ is driving to the basket, Wagner can easily space the floor and become a reliable 3-point threat. He willed his team along against Villanova in last year's national title game. Should the Lakers still be playing in June, Mo Wagner will not be one of the guys LeBron is yelling at in the huddle. He'll be wetting threes and making faces like this.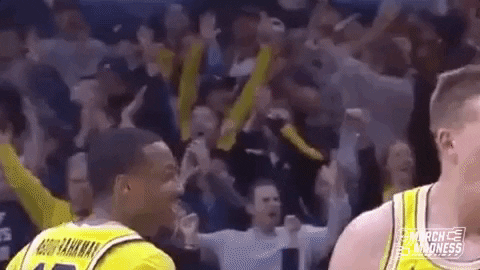 ---
If you want more content like this, here you go. And if you think I left anyone out, let me know on Twitter or in the comments below. #October16th
TonyTheTiger, 20170329 MCDAAG Lonnie Walker IV passing, Cropped by Editor, CC BY-SA 4.0